Energy unavoidable, electricity is central to our daily lives.
It must be deployed and distributed by ensuring the safety of users and consumed so controlled in terms of costs and environmental concerns.
Controllers machinery and equipment
A portable and powerful device to realize the full certification testing of a large number of electrical devices and equipment : dielectric test, continuity, voltage drop, insulation resistance, leakage current, discharge time and functional testing.
Battery capacity tester
Perfectly suited for preventive maintenance, battery capacity tester IE 6630 held in the hand. Easy to use, it allows the measurement of the internal resistance and the open circuit voltage.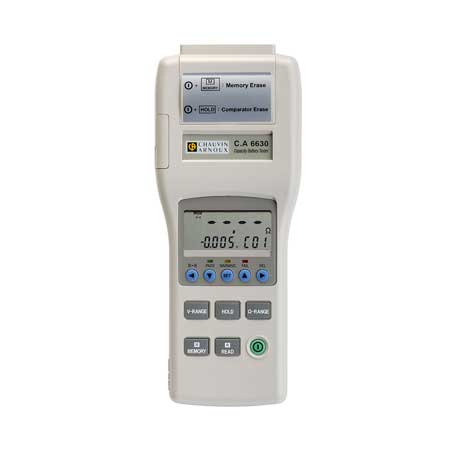 Products available :
All products – Accessories BNC connectors and cords – Cords and banana connectors Accessories – Cases – Bags – Cases and Boxes
Oscilloscope accessories : 
All products – Voltage probes – Differential Probes – Multimeters Adaptors and clamp meters
Analyzers power, energy, disturbances : 
Power Quality Analyzers – Energy – Power Quality Analyzers – Energy Qualistar – Power Meters
Laboratory devices :
Laboratory Supplies – Spectrum Analyzers – Function Generators – Digital Multimeters Table
Testers SMD
Laboratory Calibrators – Portable calibrators
Controllers of electrical installations : 
Dual functions – Multifunction – phase motor rotation direction
Up to 5000 V – 10 kV and 15 kV – up to 1000 V – Telecommunications – Electronics
Controllers of earth and resistivity :
Accessories – Controllers method Poles – stakes Controllers and selective method – earth clamps
Controllers machinery and equipment : 
Controllers and transformer windings – Machine Controllers – Paintings – Battery Testers
PV controllers
Intensity – Multichannel Power – Energy – temperature – Process – Voltage – Voltage – Intensity
On and off
Operating and analysis software :
Dataview
Thermal cameras – Light Meters – Pressure gauges – Measuring gas – Multifunction – Temperature sensors – Sound level meters – Tachometers – Thermo – Anemometers – Thermo – hygrometers – Contact thermometers – Thermometers Contactless
Electrochemical measurements
Measuring electromagnetic fields :
RF electric fields – electric and magnetic fields BF
Micro – ohmmeters
Multimeters Ex / Atex – Analog Multimeters – Analog to Digital Multimeters – graphic recorders Multimeters – Digital Multimeters – Digital Multimeters TRMS – Waterproof IP67 Multimeters
Table Analog Oscilloscopes
Oscilloscopes analyzers remote interface : 
Digital Oscilloscopes SCOPEin@BOX – Probes logical analysis – decoding bus
Digital Oscilloscopes table
Portable Oscilloscopes with Isolated Channels
20/40 MHz – 2-way – HANDSCOPE – 40/200 MHz – 2/4 Scopix tracks – Accessories Probix
Multimeters pliers : 
Pliers Leakage Currents – Pliers Multimeter AC – Pliers Multimeter AC / DC – Digital pliers – Pliers wattmeter – wattmeter pliers and Harmonics – flexible sensor clamps
Pliers and current sensors : 
Flexible sensors AmpFlex® series – flexible sensors MiniFlex® series – Pliers AC Series B – Pliers AC Series C – Pliers AC Series D – Series AC MINI Pliers – Pliers AC series MN – AC Clamp Series Y – Pliers AC / DC Series E – Pliers AC / DC series K – Pliers AC / DC PAC series
Products for education and training : 
microwave benches – Decade Boxes – Analog Controllers electrical single- function – Cosphymètres – Educational Oscilloscopes – Current Shunts – Suitcases demonstration and simulation
Electrical Testers : 
Detectors Voltage absences ( DDT / VAT ) – Voltage Testers
Telecom testers , network :
LAN Testers
RF power meters Reflectometer